101 Cycling Workouts
written by Coach David Ertl
Order here and receive an autographed copy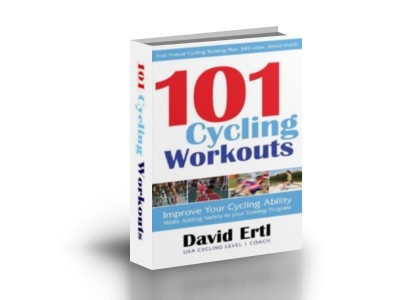 Gives you a huge variety of ways to train  - no excuse to ever get bored with your training again!
 Divided into chapters based on the type of workout, including
- Endurance
· Threshold
· Anaerobic
· Power
· Leg Strength
· Leg Speed
· Cross-training
· Recovery

· This book is applicable to the novice, recreational and competitive cyclist

· Each workout provides the Purpose, Course Description, Workout Description and Modifications to the workout

· An introductory chapter gives an overview of the basics of cycling training and the logic behind a structured training plan

· Workout intensity is based on zones, which are compatible with both heart rate and power meters.  An explanation of zones is included along with instructions for determining your own threshold zones that you can apply to these workouts.

· Tips included on building these workouts into a structured training plan
- This book is a great companion to the pre-built Training Plans and with my customized coaching training plans available at  www.CyclesportCoaching.com 

- Comes with a free annual training plan which can be used in conjunction with the workouts in this book.

Contains 153 pages

Order and receive an autographed copy!

PLEASE NOTE: THIS BOOK CAN ONLY BE SHIPPED TO U.S. AND CANADA ADDRESSES. (If you live elsewhere, consider purchasing the eBook version for instant download. Click HERE to order the eBook.)

** SPECIAL PRICE - Just $12.00 **

plus shipping, and tax where applicable



Once you make your online purchase you will be directed to Paypal where you will be able to make your payment,
even if you do not have a Paypal account.