eBooks
eBooks are books which are electronically delivered as PDF files. These can be purchased here and are delivered immediately upon payment via a download. You may keep these as an electronic book on your computer or e-reader, or you may choose to print these off if you wish to have a paper copy.
---
NEW !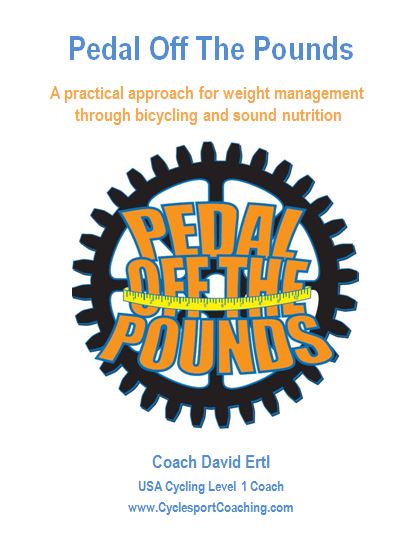 Pedal Off The Pounds
by Coach David Ertl


A practical approach to good nutrition to both support your cycling and health, as well as to allow you to use your cycling to assist in additional weight loss.
Two chapters are dedicated to common sense nutritional information with suggestions on what to eat, how much to eat, and when to eat.
Two chapters discuss how to incorporate the above eating guidelines to support the energy needs of cycling, while still being able to create a calorie deficit.

READ MORE & TO ORDER



---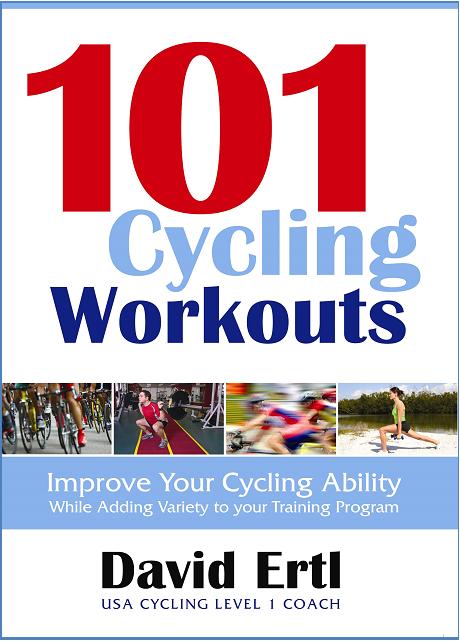 101 Cycling Workouts
by Coach David Ertl


As the title suggests, this eBook contains 101 workouts to help you become a
better cyclist. Workouts cover the range from endurance, aerobic and anaerobic
fitness, leg speed, strength, power and sprinting. It also covers gym workouts and
other forms of compatible cross-training.

READ MORE & TO ORDER
---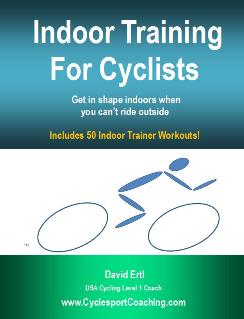 Indoor Training For Cyclists
by Coach David Ertl

We can't always ride outdoors, and as much as we may dislike riding our indoor
trainer, it is necessary to do so when you can't get out and ride. This eBook
describes the reasons why you should consider training indoors, the types
of indoor training and trainers available and provides a guide for developing
indoor workouts. This eBook contains 50 indoor workouts covering leg speed,
threshold, endurdance, anaerobic intervals and even strength and power.

READ MORE & TO ORDER



---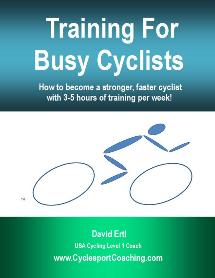 Training For Busy Cyclists
by Coach David Ertl

If you have enough time to ride and are as fit as you want to be, then this book isn't for you. It's for the majority of us who don't have enough time to get into the cycling shape we wish to have. If you would like to become more fit with your limited time, or if you would like to discover how to create more time to ride, this eBook is for you.

READ MORE & TO ORDER










---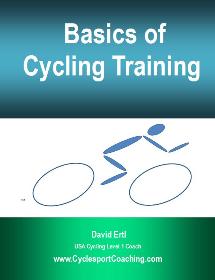 Free! Basics of Cycling Training Free!
by Coach David Ertl
This short ebook is a compilation of a lot of other books I have read, boiled down to a simple, concise philosphy on how to design and use a structured training program. Feel free to download this and pass it along to your cycling friends. Contains reference lisk of books to consider adding to your library.

DOWNLOAD HERE






---

---